Trekking in Jordan - Day by Day Account
When you think of the world's great treks my guess is that hiking through the deserts of Jordan aren't high on people's list. It certainly wasn't mine. While I always have been fascinated with the ancient Nabataean ruins of Petra, I shunned the idea of traveling to Jordan because what else was there to do? So when a representative of Discover Jordan reached out to me about my Great Treks website I was intrigued. "Trekking in Jordan?" I asked inquisitively. It didn't take long to convince me we should check it out.
Since my formal trekking with the Arthritis Society was behind me, the timing was perfect for a Salvage organized trek. I reached out to a few friends and very quickly we had a diverse group of 11 American and Canadian adventurers willing to head to a country whose mere mention prompted a single question, "Is it safe?" Having lived in a primarily Muslim country before, I knew not to believe the fear mongers. Jordan is a modern, reasonably westernized country who has been at peace with Israel for 20 years. After nearly 200 emails and many Skype calls a careful itinerary was planned. Unlike many "purist" treks, this would be a combination of trekking, site seeing, and being 4x4'd from one portion of the trek to another. In my mind I thought it's like hitting Bryce, Zion and Arches National Parks. You can hike inside them, but you wouldn't want to walk from park to park.
Scouring the internet for images I thought I had a reasonable idea of what to expect. We decided to take a direct flight from JFK which would simplify the air travel. However, this lead to a painful ride up to Long Island with three major traffic backups. The Canadians traveled separately, but planned to arrive a day early so we weren't too worried about them. Despite leaving home seven hours prior to our flight, we didn't have much extra time once we got through security. The flight was long, but reasonably comfortable. We deplaned and before we ever reached customs were greeting by a smiling face and a Discover Jordan sign. Roberto asked for our passports and said he would take care of everything while we claimed our luggage. Watching everyone else wait in line while we left our passports in a stranger's hands didn't leave a comfortable feeling in our hearts. When he joked not to worry, because he was selling them on the black market, Jennifer and I laughed nervously and hoped no one else heard it! All our luggage came though and we were off to our hotel in the midst of rush hour traffic. We were glad to see unlike Egypt, they had some traffic lights even if the lane designations didn't seem to matter!
We arrived at the Pasha Hotel in downtown and were pleased to see our Canadian friends (Evan and Mike F were friends from the Arthritis trips and they brought their friend Mike S and Drake). The hotel was modest, but clean and the staff was exceptionally friendly. We didn't have much time to dawdle, because we had a group dinner planned at a restaurant called Hashim. We did take a slight detour to a duty free shop to pick up a critical element to a vehicle supported trek, alcohol. We were limited to a liter a person and we maxed out before moving on to the restaurant. Stepping inside was dramatic. Tall ceilings, tables seperated by lots of space led to an intimate dining environment. We met the owners Ray and Laura and they couldn't have been more welcoming. Ray was joining us for various portions of the trip, but we wouldn't see Laura again until we reached the Dead Sea.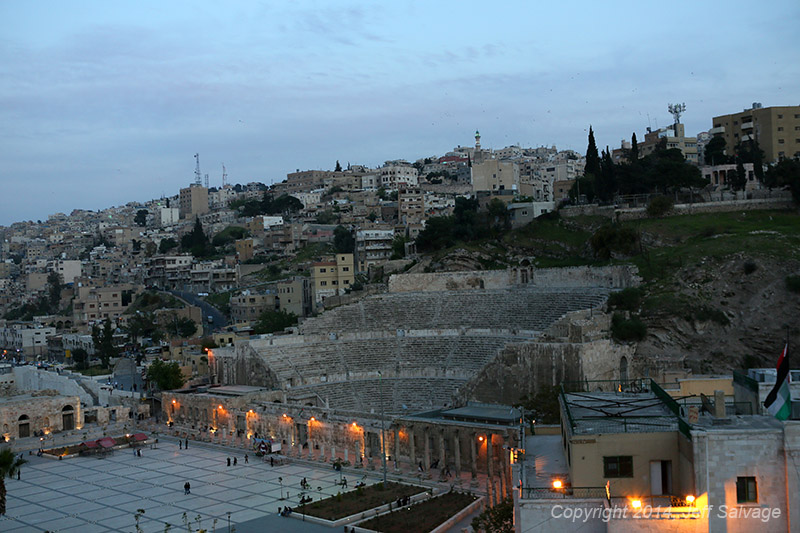 Dinner was served family style. We started with the Mezze (appetizers) which included many fresh vegetable dishes and baba ghanoush, hummus, olives, falafel, tabbouleh, halloumi cheese and kofte. By the time the lamb kebab, chicken, and steak appeared we were already close to full. This didn't stop us from nearly clearing the entire table. After dinner we headed back to the hotel and crashed hard.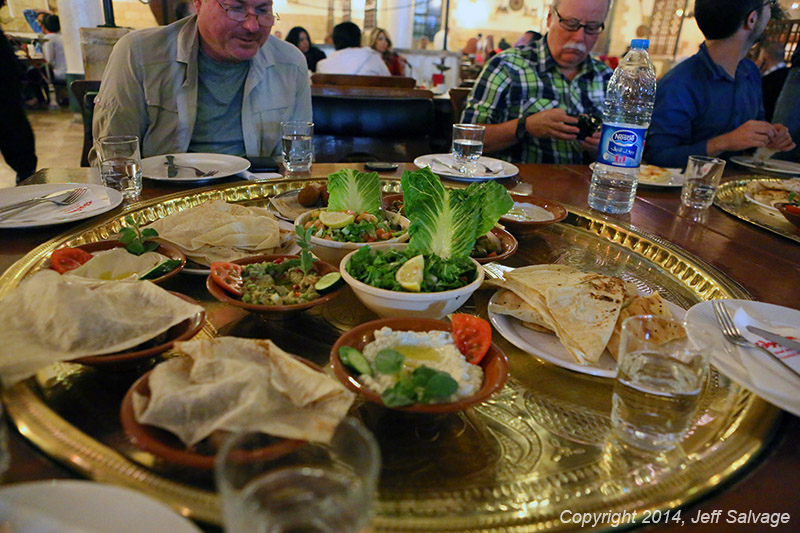 The story continues...
This trip was organized by Discover Jordan. We can not praise them enough. If you are considering a trip to Jordan, please reach out to them. They were wonderful to work with an exceeded all of our expecations!