Trekking and Hiking with Porters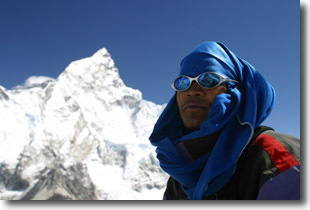 One of the great pleasures of trekking in some countries is the assistance of porters on your trek. Depending upon the support along the trek, porters may carry everything from your personal belongings to the supplies for your trek. Typically, a porter can carry the belongings of one or two people, not more. When porters carry all the supplies, its like traveling with a small army, 10-20 porters are not unusual.
It's important to be aware of how your porters are treated. Different countries have different regulations. In Peru, porters were strictly limited to the amount of weight they could carry and were inspected multiple times on the trail. In contrast, in Nepal, it is common practice to overweigh porters who are not properly clothed for the conditions. Asking your trekking agency rarely matters, they tell you what you want to hear.
On our trek in Nepal, we ended up buying gloves and hats for our porters. On our trek up Kilimanjaro, we offered a spare set of gloves to our assistant guide and he turned them down, claiming they made him uncomfortable.
One thing to be aware of is that porters/guides may ask you for equipment that you have that they may never use, i.e. walking sticks. Be aware of these requests. Your good nature may temp you to give these items up, but often they will just be sold.
Typically, the amount a porter is paid is inconsequential to the trekker. Adding one more porter or tipping your porters well won't affect your overall budget and provides quality wages in third world countries where high wages for unskilled labor is difficult.
Ganesh and Kristnia, two porters in Nepal, clearly overloaded with weight. The lack of controls in Nepal
leads to the improper treatment of your porters. Please ensure their safety as well as your own.

Kristnia being treated for blisters by one of the trekkers.


When the day was done, they still had
energy left to arm wrestle.